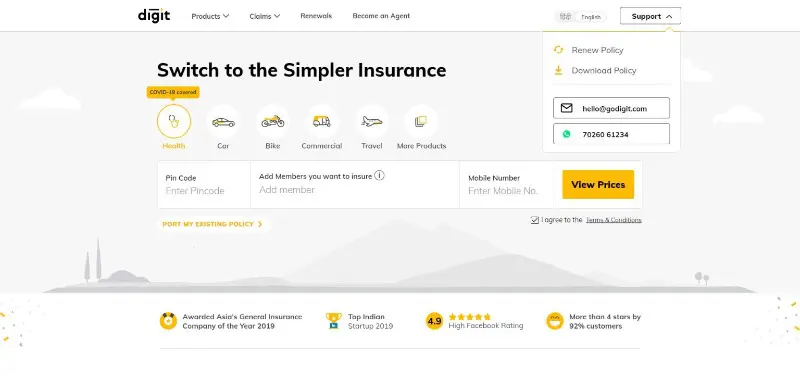 Go Digit stands out with its high diversity of policy plans in General Insurance, including health, car, bike, commercial, and travel fields. The additional policies of the company developed in accordance with commercial demands are met with interest by the employers. As a result of the evaluations, Go Digit was chosen as the best start-up of 2019. In addition, another award received by the company is known as Asia's General Insurance Company of the Year 2019. When you enter the company's official website, you will notice that there is a variety of financial products in almost every field. For example, in addition to the classic insurance policies, this firm has the following options, unlike its competitors!
Main Services and Features of Go Digit General Insurance 
Property Insurance

Fire Insurance

Flight Delay Insurance

International Travel Insurance
We seem to hear you ask: ''What are the core values of the institution? ". The first advantage of the system is that claims are super easy, user-friendly, and understandable. In addition, the feedback provided by individuals who have experienced the policies of the institution is extremely positive. This gives you an unofficial guarantee for the service you will receive.
Go Digit General Insurance
0.00
Pros
Go Digit General Insurance is providig insurance plans for home, flight delay and international delay.
There are also very good insurance opportunities for car and bike.
Prices of insurance plans are reasonable.
Financial strength of the company is good.