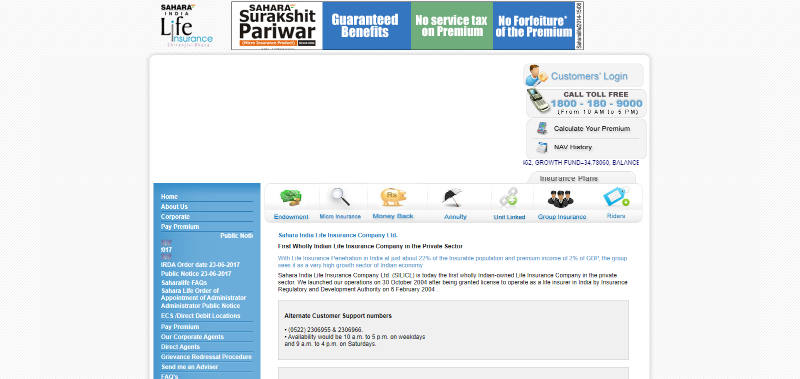 Sahara India Life Insurance, a company based in Mumbai, has been actively providing services since 30 October 2004. The company's Pay Premium options, special offers for group insurance, money back packages, micro insurance plans, and special offers for endowment are notable. Additionally, it is possible to join the company as a broker, a corporate agent, or an insurance advisor.
Main Features of Services Offered By Sahara Indian Life Insurance
Sahara India Life Insurance offers extremely advantageous options, especially under their Money Back plans. The minimum and maximum issue of age options of the plans are extremely wide. That is, a minimum of 16-year-olds and a maximum of 50-year-olds can benefit from these advantageous packages.

Moreover, it is possible to say that the coverage age of the advantageous insurance tariffs offered by the company is determined to be extremely high. You continue to benefit from the advantages until the age of 70.

The company provides you extra convenience in premium payment processes, you can benefit from payment plans called Yearly, Half-yearly, Quarterly, and Monthly.
The advantages and rates of insurance plans vary. But in general, advantageous packages with similar features are waiting for you. You can visit the company's official website right away.
Sahara India Life Insurance
0.00
Pros
Company has created in 2004. They are very professional in insurance works in India. It is one of companies that can be picked as alternative insurance company.
Prices of the can be better.
Financial strength of the company is average.
You can start to insurance for family members who are older than 16 year-old.