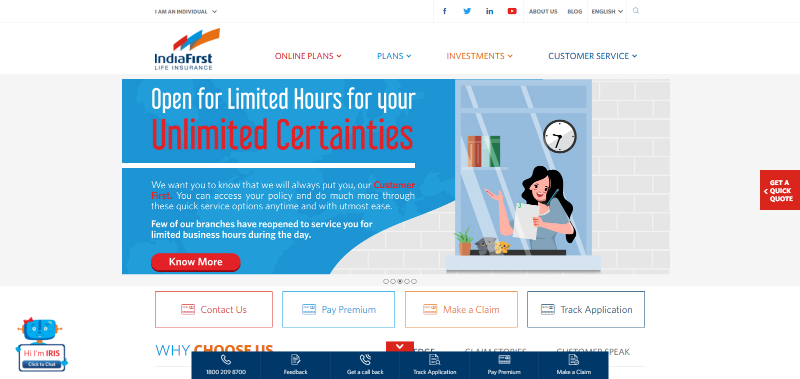 Indian First Life, a life insurance company established in November 2009 and operating based in Mumbai, India, stands out with its strong protection cover rates. The system is preferred not only for policy plans but also for investment supports. If you want to make a claim to the institution, you can easily do this on the official website. In addition to the fast claim approval process, its strong customer service performance also sets this company apart from others. The wide team of the company, which has the promise of settling claims within 1 day, can return to you as soon as possible.
In terms of what factors is India First Life different from others?
Coverage need is at the most advantageous rates this company offers.

In terms of the policy term and premium payment term, policies offer processes that will provide financial convenience.

The customer-oriented process of determining the policy cover type options ensures that you get value for the money you pay.
Basic insurance plan types can be listed as follows:
Term Plans

Investment Plans – Ulıps

Child Plans

Point of Sale (POS)

Indıafırst Lıfe Rıders

Saving Plan

Micro Insurance Plans

Retirement Plans

Common Service Center Plans
Indiafirst Life Insurance
0.00
Pros
Prices are reasonable in the company.
Good pricing for their plans. You can find various pricing for your budget in the company.
There are insurance plans for terms, investments, children, POS, Life Riders, Saving, Micro Insurance, Retirement, etc. on the plan.
Average financial strength.